Sponsor: Veeam Software Corporation
Managing & Protecting Data: Considerations for Higher Education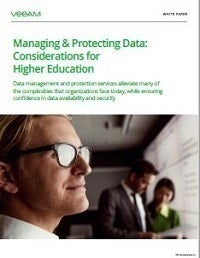 Data management and protection services alleviate many of the complexities that organizations face today, while ensuring confidence in data availability and security.
At the end of the day, colleges and universities must be proactive about managing and protecting their data. The risks associated with natural or man-made disasters, coupled with today's cyber-security challenges, make it an imperative to have the right solutions in place for disaster recovery and backup.
The first step: Identify business goals around data protection and availability. Colleges and universities must identify their business requirements around data—for example, whether they need an hourly or daily backup. They must also understand their restore, recovery time, and recovery point objectives. With that understanding, organizations can then work with vendors to best achieve these goals.